Students, educators, and administrators are taking advantage of trending EdTech tools as they start the new school year. Get caught up on the latest developments in the world of educational technology in our latest roundup blog.
This edition of the Edusity EdTech News Roundup touches on a couple of intriguing and rapidly-developing topics, including how podcasting is changing the teaching landscape and a brief look at some of the top emerging tech trends in education. 
Here's what you need to know.
Podcasting in Education: Changing the Game for Teachers & Students
As part of a study for a new book on podcasting in education, over 100 podcasters in education were interviewed for their insight on using podcasting as a teaching tool and its impact on learners and educators.
Much like other tech tools, podcasting offers brand-new opportunities for teachers to implement their teaching plan while opening fresh avenues for students to remain engaged and interested in their studies.
The ability to share information in audio form is changing the way educators look at designing courses.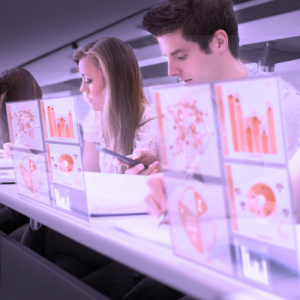 For example, instead of traditional methods of assessment and testing, podcasting and audio assignments are becoming commonplace. These assignments allow students to enhance an entirely different set of skills – such as interviewing or audio and video editing.
As podcasts and podcast technology become even more popular in the EdTech realm, we will continue to cover this developing trend in future blogs. Stay tuned.
The 10 Latest Emerging Trends in EdTech
Digital education is projected to become a $7-trillion industry by 2027. This means EdTech trends are going to continue to dominate the news and influence how teachers teach and learners learn.
Staying up-to-date on these ever-developing pieces of tech can help educators in staying ahead of the curve when it comes to understanding, and perhaps implementing, these new tools into their courses. 
Here's the latest list of the top 10 emerging trends in EdTech that could soon be shaping the way educators build and design courses: 
 1. Ubiquitous Learning Through Mobile & Cloud Platforms
 2. Smart Classrooms with AI-Driven Solutions 
 3. Immersive World Through AR & VR Technologies 
 4. Learning Gamification
 5. EdTech Meets Wearables 
 6. The Dawn of Automated Assessments 
 7. The Rise of Adaptive Learning 
 8. Cloud Computing in Education
 9. Learning in the Age of Posts 
 10. The Surge of Mobile Learning 
These lists will continue to evolve, which means we will continue to be your source for all the latest and developing trends in EdTech news, breaking down the impacts on administrators, teachers, and students. 
Stay in the know by signing up for our free monthly Edusity newsletter. Always informative, never spammy. 
The following two tabs change content below.
Flip Livingstone
Flip is a senior multimedia content creator and professional writer with a decade of experience in the world of sports media, lifestyle and wellness.
Latest posts by Flip Livingstone (see all)