We're back with another roundup of all the latest innovations and trending news in the fast-paced and ever-evolving world of educational technology. In our newest iteration of the EdTech News Roundup, we take a look into the Department of Education's latest recommendations on how modern educators should handle the growing engagement between students and artificial intelligence.
We also briefly review the top-14 emerging trends in educational technology that you need your eyes on, such as nano learning, STEAM-based programs, and of course, virtual and augmented reality technologies.
Department of Education Issues AI Guidelines for Modern Educators

There is no denying the amazing tool AI already is for learners and educators. However, given how fast this technology has progressed in such a short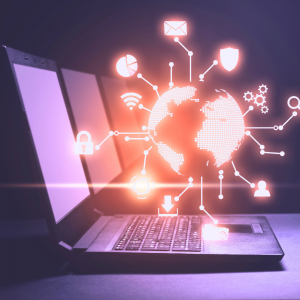 timeframe, both teachers and students need to be aware of the risks that come along with relying too heavily on tech that we do not fully understand yet.
With this in mind, the Department of Education (DOE) recently released a report detailing a number of different recommendations and guidelines educators can reference in daily lesson planning to help shape the present and future of how AI is integrated into modern educational settings. 
The report highlights three key recommendations: 
Keeping Humans in the Loop – Educators need to be involved at all levels of integrating AI into the classroom to ensure they are comfortable with the technology when applying it to their lesson plans, and aware of the risks and potential pitfalls of relying too heavily on it.
Developing New Teaching Models – With the support of AI, the DOE recognizes the supportive tool it can be when applied to developing new instructional models to help ensure students feel supported while also getting the most out of their learning experiences. 
Strengthening Trust – Perhaps the most important of the guidelines, both teachers and students need to understand and trust this cutting-edge tech to not only avoid any potential misunderstandings, but also biases toward students via AI-generated data or algorithms. 
The Top-14 Emerging EdTech Trends You Need to Watch
Trying to keep your finger on the pulse of all the latest developments from the burgeoning realm of educational technology can be a full-time job. The integration of technology into education systems around the world has led to a whole new learning experience for learners, teachers, and administrators.
The adaptation of tech into the learning process has opened up a brand-new world of tools to help provide every single student with the best learning experience possible. 
As discussed above, by now, we are all pretty aware of AI and the impact it continues to have on how teachers teach and students learn, but there are also so many other amazing tools seemingly released daily that we should also be paying attention to.
Paying attention to it not because educators want to try all the latest gadgets and seem in the know with their peers, but to ensure teachers and students make the most out of their time together in the classroom. 
Here's the list of the top-14 EdTech trends: 
1) Cloud computing 
2) Nano learning 
3) Personalized learning 
4) Artificial and human intelligence 
5) Virtual and augmented reality
6) Gamification
7) M-learning 
8) Data analytics 
9) Blockchain
10) STEAM-based programs
11) Hybrid and blended learning
12) K-12 online education
13) Subscription model
14) Online language learning

As this list continues to evolve and trends fluctuate, make sure you stay up on all the latest EdTech news by registering for our monthly Edusity newsletter. 
The following two tabs change content below.
Flip Livingstone
Flip is a senior multimedia content creator and professional writer with a decade of experience in the world of sports media, lifestyle and wellness.
Latest posts by Flip Livingstone (see all)