Online tutors are not miracle workers. They can, however, make sure you understand and act on major themes in your coursework. Here are some tips to get the most out of your online tutoring sessions to make your exam and class prep as effective as possible.
Get Recommendations
You need a tutor who is well-versed in your subject and who knows the course material. Get recommendations from your colleagues, from upper-year students who have taken the same course (preferably with the same professor), and even from your TAs and the professor themselves. In some cases, your faculty student union will keep a list of endorsed or recommended tutors. At the very least, the tutor should be familiar with the specific texts and materials used in your course.
Set Your Own Agenda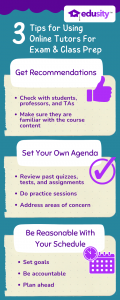 It's important that you as the student determine what the content of tutorial sessions will be. You already have most of the material you need to review properly and your first job is to organize it. Two of the most important pieces of material are any quizzes or tests that you've already done in the course and past exams that are kept on file at university and college libraries.
Reading over past papers or tests and going over any problem areas with a tutor is an excellent use of time. Do old exams during practice sessions where you try to replicate exam conditions and time limits. Again, go over any areas of concern you encounter on old exams with the tutor. Most online tutors will have some form of document and screen sharing set up so that you can share your test and exam materials with them.
Be Reasonable When Setting Your Schedule
Procrastination is the worst mistake every generation of students has made since the beginning of education. Set goals for each day, divide those goals into three phases or tasks and set a reasonable time to complete each of them. You will have to hold yourself accountable. Taking time to get proper sleep, to eat proper meals and to get fresh air are part of that self-accountability process.
When you are creating your study plan, work in a few options where you are available to schedule a tutoring session and book them in advance. This will give you and the tutor time to plan the sessions and to make sure you are in the best position to get the most out of the time and money you have committed.
Listening to recommendations, gathering proper materials, and setting agendas and schedules are all practices that will help you get the most out of online tutoring sessions. Exam and overall class prep can be stressful and you may need to remind yourself that even Cs get degrees. Online tutoring sessions are a great way to connect with someone who has been in your position and really can help you through your studies.
The following two tabs change content below.
Flip Livingstone
Flip is a senior multimedia content creator and professional writer with a decade of experience in the world of sports media, lifestyle and wellness.
Latest posts by Flip Livingstone (see all)