When it comes to maintaining a healthy and active lifestyle, most of us know we need to drink the appropriate amount of water, eat a (mostly) balanced diet, and try to get at least a bit of exercise worked into our daily routines. But what about maintaining a healthy and active brain? What about boosting and supporting our mental health, too? 
The effects of the tumultuous past few years that we've all experienced have created legitimate impacts on the mental health of millions – both in personal and professional settings. Staying motivated, focused, and of course, happy can be challenging for so many. However, there is something we all can do that's relatively simple yet effective to improve our mental health daily  – engage with Mother Nature.
With the warmth of summer just around the corner, there really is no better time to test the theory for yourself and reap the benefits of getting outside. 
What Does the Science Tell Us?

As recent studies prove, one of the best ways to ensure optimal health, in both body and mind, is to soak up the great outdoors as much as possible. Research shows that people who get outdoors and aim for the recommended amount of daily physical activity report feeling less stressed, more energetic, and revitalized than those who don't. 
Outdoor movement and simple, accessible activities such as walking, wheeling, stretching, yoga, and even jogging are amazing ways to support overall physical health, mental health, and brain function.
Moving our bodies, especially when outdoors, can have powerful effects on our moods and brains. Movement increases endorphins and other feel-good chemicals within the brain such as dopamine and serotonin, which leads to a natural boost for the body and brain.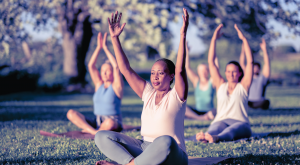 Getting active, even in small batches, over the course of the week also lowers the cortisol and adrenaline in the body, two chemicals that can leave us feeling stressed out and anxious.
Feeling down or overwhelmed? Get outside and give the body its best chance at a natural recovery.
Move for Our Immediate Mood and Future Success 
Putting our bodies in motion outside can also lead to direct benefits on daily tasks like learning new things, focusing on an exam, or trying to nail a big promotion or presentation at work. 
According to a study of older adults, a program of 24 weeks of moderate exercise improved both concentration and cognitive function. Think about it this way: instead of sitting in front of a computer screen trying to cram every last bit of detail into your already overworked brain, switch it up and try studying after a stroll in the park or a few laps in the yard. The potent combo of physical activity and revitalizing outdoor freshness helps take in and store that information more effectively, and leaves you feeling rejuvenated and ready to take on upcoming tasks like a pro.
Perhaps the best part of reaping the benefits of outdoor play and movement is that it doesn't have to be overly complicated or even an expensive task. 
Don't have a backyard or park nearby? Head out onto a balcony for a short breathing or yoga session. Just having the sun on your face can also have major positive impacts on overall and mental health, like increased alertness. Don't have time for a five-kilometre walk? Aim for a shorter stroll and try and work your way up from there.
The next time you're feeling down, tired, and even a bit lethargic, don't go for the classic cup of joe. Do something healthy and proven to help your body and your mind feel better naturally. Get moving outdoors! You will see positive benefits at home, work, and even in the classroom. Now's the time to enjoy summer and get out there!   
The following two tabs change content below.
Flip Livingstone
Flip is a senior multimedia content creator and professional writer with a decade of experience in the world of sports media, lifestyle and wellness.
Latest posts by Flip Livingstone (see all)